CHRISTIAN LIFE RESOURCES
The purpose of the Christian Life Committee is to provide materials to engage, encourage and equip women to grow in their Christian faith and service. At the LWML Convention in Mobile, Alabama, the Christian Life Committee revealed new materials designed to keep us in the Word. Some of the new resources include:
Mustard Seed Devotions booklets (available from the LWML store)
Each booklet is a collection of 19-22 favorite Mustard Seeds that focus on a various subjects.
A new Bible study titled A Missionary? ME? (available from the LWML store)
This is a collection of eight short Bible studies/reflections by women serving as missionaries.
Two year program planner reSOURCEs for Planning Programs (available from the LWML store or as a free download from the LWML website)
Two years of monthly programs from September 2019 to August 2021 with suggestions for icebreakers, devotions, Bible studies, programs, mission service projects and mission grant references.
Heart Blessing Cards (available as a free download from the LWML website)
Business card size downloads that can be printed off at home and used to spread the message of our Savior to a world in need of His Word.
Pastor Appreciation Cards (available as a free download from the LWML website)
Greeting cards that can be printed off at home to recognize the service of pastors.
Praying the Psalms Podcast (available on iTunes, Google Play Music or the LWML App)
Join in Praying the Psalms with the new LWML Podcast! New episodes with devotional content from Praying the Psalms will be posted every Wednesday.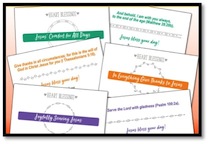 New devotions, Bible studies, sketches, crafts, etc. are being added on a regular basis. These resources are available as a free download on the LWML website. By going to www.lwml.org and selecting 'The Word,' you will find a topic 'Program Helps.' Within this category, you will find: (Or you can click on the following links.)
Each of these categories list available resources alphabetically in PDF format that you can either print or save to your computer. Some ideas for this fall are:
Theme Verse – Be kind to one another, tenderhearted, forgiving one another, as God in Christ forgave you. (Ephesians 4:32).
Icebreaker – Showing Grace
Devotion – A Grace-Full Woman
Bible Study – Grace-Full Women
If you haven't already signed up for the Mustard Seed devotionals, it's a good way to get scriptural inspiration delivered daily to your inbox. Sign up at www.lwml.org/mustard-seed-devotions.
Another good resource is President Debbie's Blog at blog.lwml.org. You will receive an email whenever new blogs are posted. The 2019 Prayer Service and LWML Sunday materials are also available on the website. If you are seeking a specific Bible study, devotion, or reading, please contact me at christianlife@lwmlmnn.org or call 320-743-2131 and I'll do my best to help you find what you're looking for.
NOTE: The Christian Life forms (pink) will be included in the fall packets distributed at rallies and workshops. The forms have been redesigned and the timing for completing them has changed. The society reports will be due to the zone chairman by January 15, 2020 and the zone reports will be due to the district by January 31, 2020.